KaneXT make Goliath / Gantry cranes are designed and manufactured in accordance with IS:3177 and IS:4137. Considering adequate factor of safety with respect to appropriate duty. The structural parts of the cranes are designed in accordance with IS:807. KaneXT also manufactures cranes as per international standards. KaneXT cranes are manufactured with standard components and controls to ensure reliability. Our wide range of goliath cranes are useful for handling material resources for various industries and projects.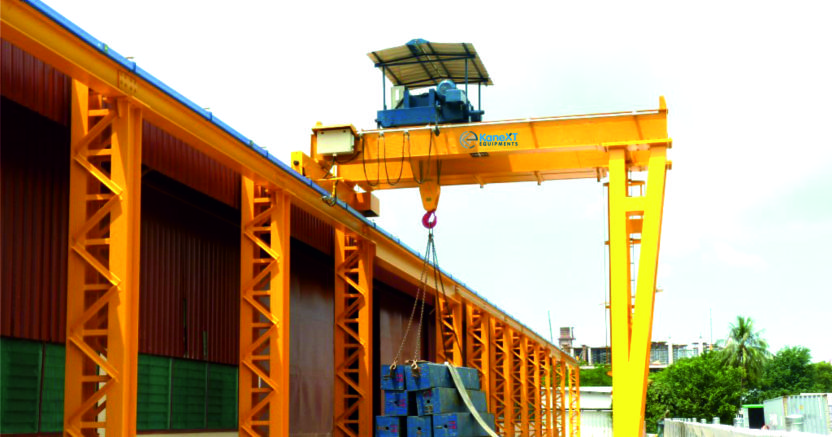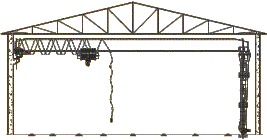 Semi Goliath / Gantry Cranes
The Goliath Crane, Semi Goliath Crane, or Gantry Crane are self driving Cranes on rails set up at ground level. Gantry Cranes are usually used for the transportation of heavy and large loads, often outdoors.

When a part – use of the shop bay is needed, a semi-Goliath / Gantry Crane is used.
Price:
Start From
6 Lakh INR/Unit
Span:
5 mtrs. to 20 mtrs.
Safe Working Load:
1000 kgs. to 60,000 kgs
Crane Control:
From floor through Pendant Push Buttons, Optionally Through Radio Remote Control / cabin with master control.
Motors:
Squirrel Cage & Slip Motors based on application requirements, built-in separator electrically operated fail to safe brakes for all three motions. Motors with 'F' class insulation provided in all motions.
Power Supply System:
To Hoist and Cross Travel through Trailing Cables / Drag Chain to Crane through Shrouded Bus Bars / Trailing Cable / MS Angle Iron Conductors / Bare Copper Conductors (depending on customer's choice and application).
You are in a rent workshop.
The building of the overhead crane runway structure is impractical. So the gantry crane may be the only choice for you.
You need to handle the loads inside and outside of your workshop. 
The overhead crane is not proper for you especially when the distance outside of your workshop is long.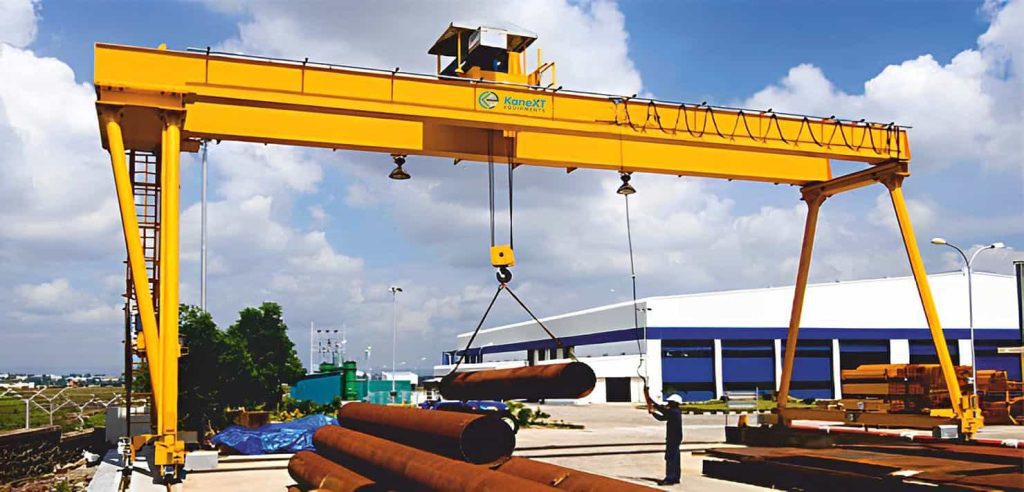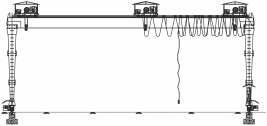 In shipyards and container yards, the girder design is often used to carry multiple heavy loads. The Goliath Gantry Crane can move across all three axes. The action in the lifting direction is carried out by a special high torque motor, installed on the girders with a high load capacity.

Price:
Start From
8 Lakh INR/Unit
Span:
5 mtrs. to 50 mtrs.
Safe Working Load:
1000 kgs. to 1,00,000 kgs.
Class of Duty/Standards:
Equivalent to M3, M5, M7, M8 as per IS:3177 / IS:807
Drive System:
Accordance with IS : 3177 Structural Parts With IS : 807 and Other Miscellaneous Parts with IS : 3177, IS : 3938 and IS:4137
Speeds:
Selected depending on client specifications/application/ shed dimensions Selected depending
The house is not prepared for the runway structure or the situation is not suitable for building the column of the runway structure
Although the gantry cranes are not the best choice used indoor, sometimes they are the best solutions. It will save you much of your money.
n the near future, you need to use the crane in another place or you will use the crane in different places.
Gantry crane is free standing by itself, there is no need of the runway structure.
Goliath / Gantry Cranes
Updated on 2023-07-25T14:07:59+00:00, by admin.