KaneXT chains pulley blocks are designed and manufactured in accordance with IS 3832 and are available in Hook suspension type, push-pull trolley type and geared trolley type. Load chain used is graded alloy steel chain and hand chain is m.s. calibrated to relevantt Indian standards and international standards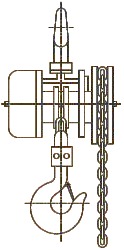 Safe Working Load
Capacity upto 20 Tons.
Low Headroom.
Positive Transmission
(Bearing Supporter).
Lubrication :
Totally enclosed gear case is
packed with sufficient grease.
Chain Pulley Blocks
Updated on 2023-05-13T12:01:39+00:00, by admin.