KaneXT chains pulley blocks are designed and manufactured in accordance with IS 3832 and are available in Hook suspension type, push-pull trolley type and geared trolley type. Load chain used is graded alloy steel chain and hand chain is m.s. calibrated to relevantt Indian standards and international standards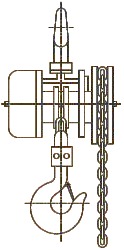 Safe Working Load
Capacity upto 20 Tons.
Low Headroom.
Positive Transmission
(Bearing Supporter).
Lubrication :
Totally enclosed gear case is
packed with sufficient grease.
Chain Pulley Block: Types, Uses & Working Principle
A Chain Block is a device for using a Chain to raise and lower large objects. A chain block is composed of two wheels round which the chain is wound.
When you pull the Hand chain, it wraps around the wheels and starts to hoist the object. It is fastened to a rope or chain using a hook and chain. If you use lifting slings or chain bags, you may also obtain chain blocks to even out the weight distribution.
Heavy weights can be lifted by hand, and chain blocks are particularly flexible. A typical Chain Block consists of the base hook, hand Chain and lifting Chain.
The foundation hook of the Chain Pulley Block connects it to the object's mass. You can even keep track of your bigger items by using slings. The tension builds in the chain when the hand chain is pulled, and the weight of the chain increases, creating tension in the chain.
What is the Function of a Chain Pulley Block?
Chain blocks have three main components: A hook, a hand chain along with a load chain. Electricity can also be used to power chain blocks, but in many cases, manual chain blocks are also available.
Before making use of the chain block, the grasping hook must be utilized to connect it to the load.
What is the Purpose of a Chain Pulley Block?
Because of their lifting capabilities, chain Pully Blocks often work in garages to remove engines from cars quickly and efficiently. Chain Blocks are so efficient to execute operations which would normally require more than two people, because they can be controlled by a single person.
Chain block lifting equipment is ideal for the installation and maintenance of machinery. They are also great for small spaces and overhead work. An alternative of the Chain Pully Block is the Electric Chain Hoist.
In assembly-line industries, chain blocks are used to transfer items onto and off conveyor belts, and on construction sites to lift things from higher levels. From time to time they can also be used to winch vehicles from hazardous terrain.
They are suitable for a wide range of applications and are available in different capacities. There are chain Blocks available with lifting capacities of as much as 25 tons. Chain blocks offer a low-cost alternative for transporting large objects.
Select a chain block Manufacturers, and they are going to provide you with the most cost-effective Chain Block lifting machine for your business. They are using the most advanced manufacturing techniques to ensure that they are providing their customers with the best quality.
Chain Pulley Blocks
Updated on 2023-10-16T14:42:05+00:00, by admin.