KaneXT Single Girder and Double Girder E.O.T. Cranes are designed and manufactured in accordance with IS:3177 and IS:4137. Considering adequate factor of safety with respect to appropriate duty. the structural parts of the cranes are designed in accordance with IS:807. KaneXT also manufactures cranes as per international standards. KaneXT cranes are manufactured with standard components and controls to ensure reliability.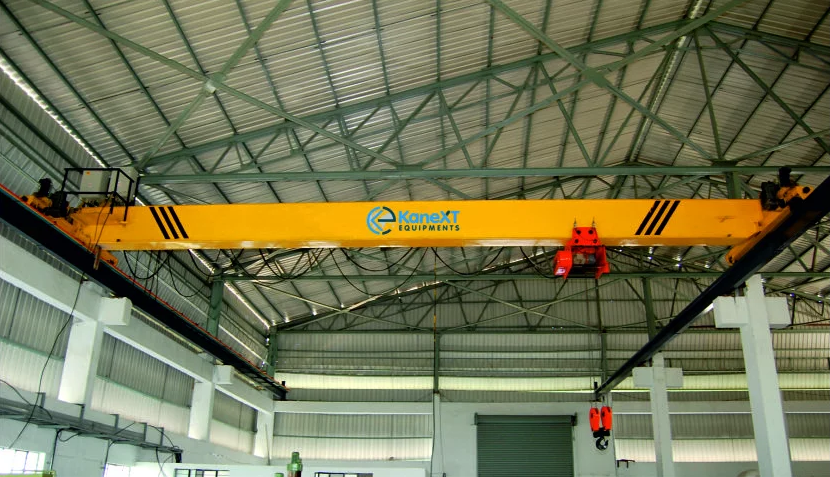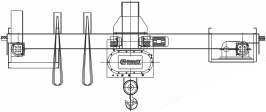 Single Girder E.O.T Cranes
kanext manufacture Single Girder cranes tend to be modular by making use of regular wire rope hoist in construction. The compact and light weight design assures optimal use of floor space, lower building loads, and maximum utilization of floor space.
Price:
Start From
5 Lakh INR/Unit
Span:
3mtrs. to 35 mtrs.
Safe Working Load:
500 kgs. to 20,000 kgs.
Crane Control:
From floor through Pendant Push Buttons, Optionally Through Radio Remote Control / cabin with master control.
Motors:
Squirrel Cage & Slip Motors based on application requirements, built-in separator electrically operated fail to safe brakes for all three motions. Motors with 'F' class insulation provided in all motions.
Power Supply System:
To Hoist and Cross Travel through Trailing Cables / Drag Chain to Crane through Shrouded Bus Bars / Trailing Cable / MS Angle Iron Conductors / Bare Copper Conductors (depending on customer's choice and application).
Minimizing the building loads and saving space by using lightweight construction and compact construction.
Suitable for Medium and Light duty workshop applications
All motors have class F insulation and are TEFC.
Heavy duty cast steel rope guide
Upper and Lower hook travel limit switch
Additional Counter weight operated over hoist limit switch as option
Compact and lightweight festoon cable system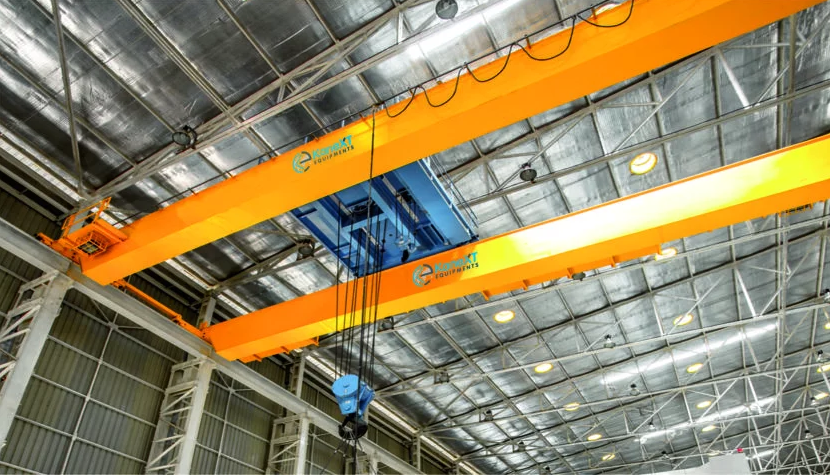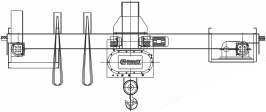 Double Girder E.O.T Cranes
The double girder cranes are strong in construction and realize their use in a broad range of hoisting capacities and applications. kanext cranes promoters have experience of designing Cranes of up to 500 MT capacity.
Price:
Start From
8 Lakh INR/Unit
Span:
5 mtrs. to 40 mtrs.
Safe Working Load:
500 kgs. to2,00,000 kgs.
Class of Duty/Standards:
Equivalent to M3, M5, M7, M8 as per IS:3177 / IS:807
Drive System:
Accordance with IS : 3177 Structural Parts With IS : 807 and Other Miscellaneous Parts with IS : 3177, IS : 3938 and IS:4137
Speeds:
Selected depending on client specifications/application/ shed dimensions
Barrel Winch construction with True Vertical Lift
Alloy Steel, hardened, precision cut gears
Foot mounted type fabricated gearbox casing horizontally split at centre line for ease of maintenance for hoist
Lift and speeds to suit your specific application
L Type housing for Long travel wheels
Foot mounted hydraulic thrustor brakes for hoist
VVVF drives are available as an option
E.O.T Cranes
Updated on 2023-07-25T14:03:52+00:00, by admin.